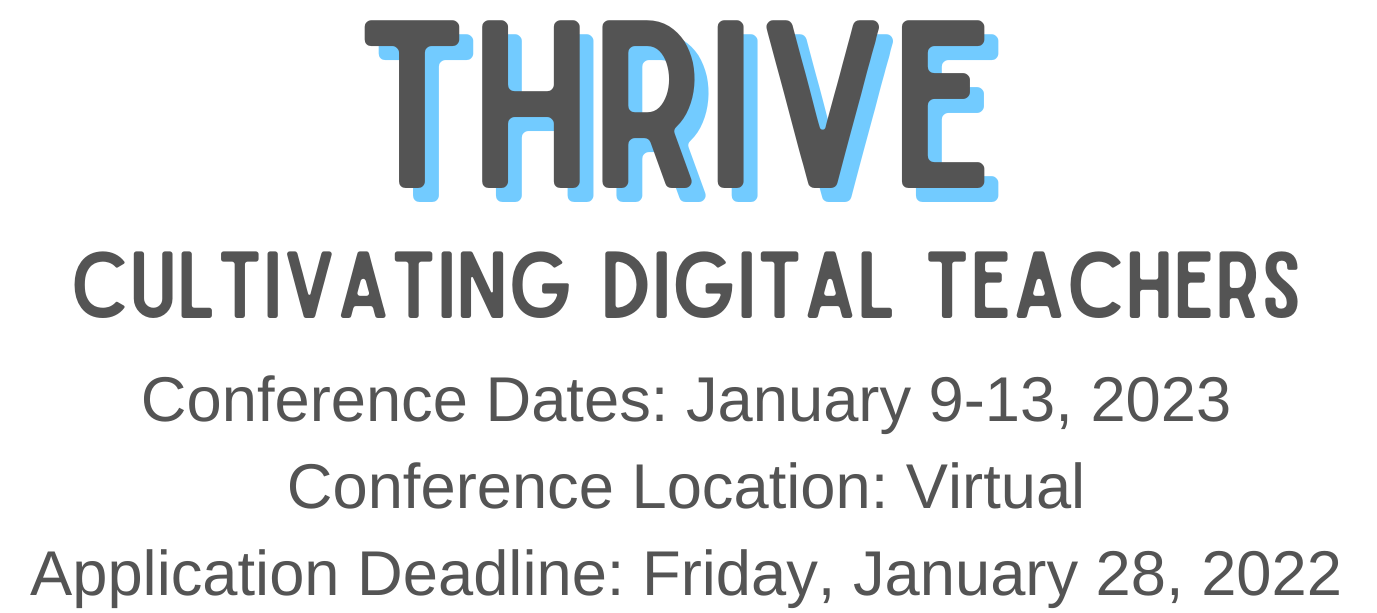 Thank you for your interest in presenting at Thrive.
Presenters will be notified via email of their application status no later than February 11, 2022.
Conference Objectives
We are looking for dynamic content that aligns with the following:
Examines the transformation of face-to-face instructional content in virtual learning environments.
Explores the role of educational technology software and instructs how to effectively integrate technology in CTE classroom pedagogy.
Discusses digital inequity and identifies processes to advocate for and increase digital equity in secondary classrooms.
Explores a wide variety of educational technology software and creates instructional artifacts to use with students.
Highlights best practices for remote instruction in CTE classrooms, including how to cultivate meaningful collaboration through social learning.
2023 Conference Themes
Tech-Xpert
Are you a platform expert or technology lead in your district? Share your technology and application expertise!
Examples include but are not limited to learning management platforms, creative tools, and collaborative applications.
Think outside of the box. What cool tech do you use to streamline your classroom management or enhance learning?
Supporting Learner Well-Being
How do you develop student connectedness in and outside of the classroom?
What strategies do you use to build student character and career readiness?
How do you create an inclusive classroom? (Think inclusivity, access, equity, and diversity!)
Developing Innovative Students
Do you facilitate project-based learning? Have you implemented a maker-centered course or lesson? If so, share your knowledge, facilitation strategies, and resources with your peers.
Examples include but are not limited to design and research projects, work-based learning connections, and other student-driven opportunities.
Presenter Qualifications
Any educational professional may apply to present.
CASE experience is not required.
All applications will be reviews and presenters selected based on the following criteria:

Relevancy to instructional technology implementation in career and technical education
The inclusion of hot topics outlined above
Evidence of knowledge of the subject matter
Prior presentation success
Demonstration of tangible participant takeaways (resources)
Specific workshop interactions designed to keep participants engaged in a virtual environment